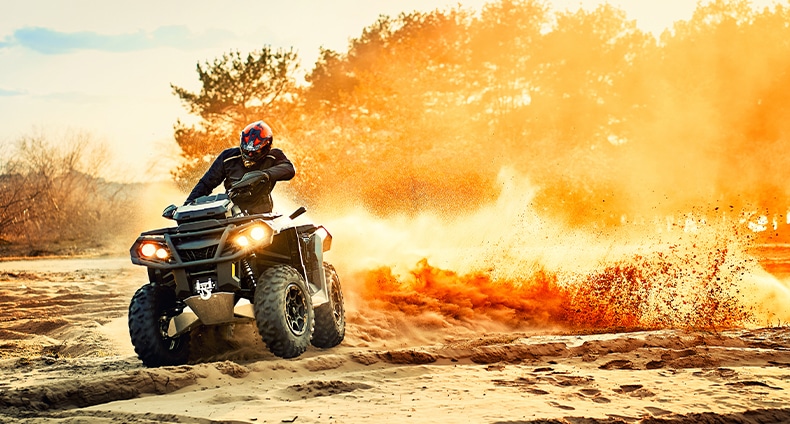 Alton ATV Accident Lawyers
Representing injured ATV riders and operators in Illinois
All-Terrain Vehicles (ATVs) are fun recreational vehicles, especially for teens and young adults. People can enjoy riding over trails, hills, and rough terrain. However, ATVs are also dangerous. The vehicles provide little protection. Many riders fail to appreciate the dangers of riding an ATV. Most accidents are single-vehicle accidents. When riders fall from an ATV, they are likely to suffer crush injuries and possibly death.
At Glisson Law, our personal injury lawyers have been fighting for personal injury victims for 25 years. We're skilled at showing why accidents happen and who is responsible. We understand the Illinois laws that govern riding ATVs safely. We also work with experts who are skilled at showing that the ATV that injured you or a loved one was defective. We'll fight to hold ATV manufacturers are other responsible parties (ATV passengers can file claims against ATV drivers) liable for all your financial and personal losses such as your medical bills and pain and suffering.
What kinds of ATVs and recreational vehicles are available?
Off-Road Lord defines an ATV as an off-road vehicle. ATVs, also known as quads or four-wheelers, have handlebar steering and "straddle/motorcycle-style seating." As their name suggests, ATVs are designed to travel over rough terrain conditions. Generally, ATVs are designed for a single operator or an operator with a passenger behind the ATV operator.
ATVs use low-pressure tires. There are generally different models for riders in different age groups. For example, ATVs for smaller younger riders are designed for smaller legs, arms, feet, and hands. Current ATVs use electric power steering.  The tires are designed to drive through rocks, sand, light mud, sand, ice, and snow.
Some adult ATVs can go as fast as 80 mph. Models for younger riders should max out at slower speeds. The brakes are disc brakes or drum brakes.
The main types of ATVs are sport ATVs, Youth ATVs, Utility ATVs, and Side-by-Side ATVs.
Off-road recreational vehicles include electric bicycles (regular bicycles with an electric motor), dirt bikes, mopeds, and motorbikes. A new type of off-road vehicle is a three-wheel motorcycle (a trike).
Why are ATVs so dangerous?
ATV accidents can cause permanent injuries and often catastrophic injuries for many reasons – some due to the driver and some due to the manufacturer.
Inexperience. The ATV Safety Institute recommends that riders wear helmets, goggles, boots, gloves, long pants, and long-sleeved shirts. Riders should not drive on paved roads. Riders under 16 need supervision. Riders of all ages should take courses depending on their age and experience.
Aggressiveness. ATVs are designed to drive "tough." Many operators think their ATVs have no limits – they're wrong. ATV operators still need to be cautious when going over hills, through curves, over wet surfaces, while riding in the rain, and where the terrain is very uneven.
Intoxication. As with cars, it is not OK to drink (have a beer or more) and then ride an ATV. Worse, drivers should never drive and drink at the same time. Alcohol affects a rider's ability to respond to dangers, slows down their reflexes, and affects their ability to control the ATV.
Passengers. Passengers should only ride on ATVs designed for passengers. Drivers who let a rider hang on to the ATV or squeeze onto the handlebars should be held responsible for any accidents that happen.
Defective parts. ATVs should be built to handle riding over tough terrain. The handlebars need to steer correctly. The brakes need to work. The electrical components must be reliable. The fuel lines should be safe. The throttles and clutches need to work. ATV manufacturers may be strictly liable for any accidents and injuries/deaths that occur due to ATV defects.
ATV accidents may also happen because drivers don't know the terrain where they're driving. After all, the driver operates on paved roads, and for other reasons. ATVs have some propensity to roll over.
According to the Consumer Product Safety Commission (CPSC), there are more than 700 deaths and nearly 100,000 ER visits involving OHVs (off-highway vehicles) each year. ATVs accounted for almost three-quarters of the 2,211 deaths that occurred between 2016 and 2018, according to the latest CPSC report. Many of those deaths involved children under 16. For 2020, CPSC estimates that 112,300 OHV injuries were treated in hospital emergency departments.
What Illinois laws regulate the use of ATVs?
Among the different ATV and OHV laws, 625 ILCS 5/11-1426.1 provides that (unless stated otherwise):
Non-highway vehicles cannot be operated on any Illinois highways, streets, or roads. Where operation is legal, the non-highway vehicle must be ridden on roads with speed limits of 35 mph or less.
Only people with a valid driver's license can operate a non-highway vehicle on any highway, street, or road.
"No person operating a non-highway vehicle shall make a direct crossing upon or across any toll road, interstate highway, or controlled access highway in this State."
Local Illinois entities may authorize non-highway vehicle operation on roads within their jurisdiction – after considering the "volume, speed, and character of traffic on the roadway" and reviewing other factors.
Non-highway vehicles that can be operated on Illinois roads must have:

 "Brakes, a steering apparatus, tires, a rearview mirror, red reflectorized warning devices in the front and rear" and other equipment.
What injuries do ATV and recreational vehicle riders suffer?
ATV accident victims often suffer severe injuries, including:
Internal bleeding and organ damage
Fractures/broken bones
Nerve, tissue, ligament, and nerve damage
Road rash
Scarring and disfigurement
Psychological injuries
At Glisson Law, we work with your doctors to verify your injuries, understand all your pain and limitations, understand the treatments you'll need, and the cost of all your medical care.
Who is liable for an ATV accident?
The responsible defendants in an ATV client may include:
The driver if a passenger is injured
A manufacturer of a defective ATV part if a driver or passenger is injured
The owners of the land may be liable to any rider for improper trail design or maintenance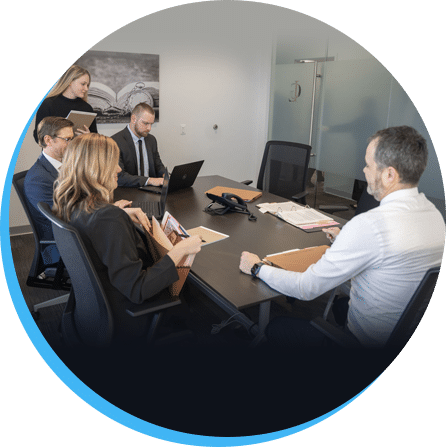 Do you have an ATV/recreational accident lawyer near me?
Glisson Law is located at 111 East Fourth Street, Suite 400, in Alton, IL. Our office is one block away from City Hall, and you can find plenty of parking close by. You can also reach us by bus. We do meet clients at their homes and hospitals if they're not mobile and through phone and video conferences by appointment.
We represent adults and the parents of any child who is injured in an ATV accident.
Contact our ATV lawyers today
ATV accidents are frightening. If you fall from an ATV onto rough terrain, are dragged along the ground, or the ATV tips over on you; the consequences can be catastrophic. At Glisson Law, our ATV accident lawyers have the experience and resources to handle these difficult cases. We'll explain your rights and work to hold those responsible liable for your injuries or the death of a loved one.  Call us today or fill out our contact form to schedule a free consultation. We represent the people of Belleville, Edwardsville, St. Clair, Madison County, and all of Illinois and Missouri.