Who Is Liable in a Collision with a Semi-Truck?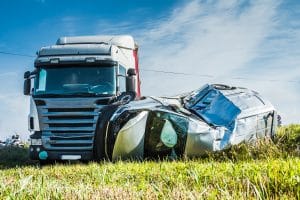 A semi-truck is essentially any truck that has a trailer. The word semi is used to refer to trailers that didn't have a front set of wheels. The terms semi, tractor-trailer, and 18-wheeler have become fairly interchangeable. The common thread for all types of semis is that they are used to haul cargo within states such as Illinois and Missouri, and across the country.
According to TEC Equipment, a trucking company, technically, semis are Class 7 or Class 8 vehicles. Semis that don't have beds weigh between 15,000 to 16,000 pounds. Large sleeper semis can weigh more than 18,000 pounds. Semis also don't use a tow hitch to attach the cab and the trailer. Semis use a "king pin" that's about two to three inches thick and goes "through the fifth wheel, a big horseshoe-shaped piece of metal on the back of the truck, and clamps lock it in place."
What types of semi-truck accidents does your firm handle?
Semis are dangerous for many reasons, including their heavy weight and tall height. They're extremely difficult to drive, which is why drivers are required to have a commercial driver's license. The weight and mass of the truck mean that when accidents with cars, other vehicles, pedestrians, and bicycle riders happen; the smaller vehicles and people will absorb most of the force of the crash – often resulting in catastrophic injuries and deaths.
Common semi-truck accidents include:
Jackknife accidents where the cab and trailer go in separate directions
Truck rollovers which can be deadly and cause the truck to spread across several lanes of a highway
Wide-turn accidents at intersections, because trucks need a lot of room to make a turn and often another lane of travel to complete the turn
Blindspot accidents because the driver can't see behind, to the right, and in front of the truck due to the dimensions of the truck and a lack of windows
Underride accidents which happen when smaller cars slide under the semi
Overpass accidents if a tall semi collides with a low overpass
Accidents that occur in the same way as car accidents – head-on crashes, broadsides, sideswipes, rear-end collisions, and single-vehicle accidents.
Many truck accidents involve multiple vehicles that may collide directly with the truck or with other vehicles or objects in an attempt to avoid the truck or cargo that spills from the truck.
Which people and companies are liable for semi-truck accidents?
Glisson Law's skilled truck accident lawyers have nearly 30 years of experience fighting for all personal injury victims. We file claims against everyone responsible for your accident or the death of a loved one. We review many different factors including all the shipping arrangements, the driver's employment status, the contracts and leases involved, and other factors. We also review the federal and state laws that regulate the operation of trucks, such as FMCSA hours of service rules and OSHA loading and unloading regulations.
The defendants in semi-truck accident cases may include one or more of the following:
The driver of the truck may be liable because the driver sped, violated a local traffic law, drove while tired, drove while distracted, drove while intoxicated, or was negligent for other reasons
The truck driver's employer may be liable based on the theory of "respondeat superior," which holds that employers are liable for the negligence of their employees
A company that owns the truck may be liable if the owner failed to exercise proper precautions to ensure the driver had the proper training and experience to drive the truck
A maintenance or repair company may be liable for failing to routinely inspect the semi and to take the truck off the road until the repairs could be completed
A manufacturer, distributor, or seller of defective truck parts, such as defective hydraulic systems, electrical components, brakes, and other truck parts
Other possible defendants in semi-truck accidents may include:
A broker who arranged the shipment
The companies involved in the shipment
The drivers of other vehicles on the road
Other defendants may include a business that sold alcohol to a driver whose intoxication caused the accident. A state Department of Transportation agency may also be liable for a semi-truck accident.
Usually, the more defendants there are, the more insurance coverage there is to pay for all your personal injury damages or wrongful death damages.
How do your semi-truck accident lawyers fight for injury victims?
Semi-truck accident cases require experienced truck accident lawyers because each defendant will blame the other defendant for the accident or deny that they're liable altogether. We work with investigators who examine the accident site on the highway, the damage to the vehicles, and speak with witnesses. We may hire traffic reconstruction experts especially if multiple vehicles are involved. Our lawyers use the discovery process to question everyone involved and obtained all the information and documents we need to help establish liability.
We also work with your doctors or our own network of doctors to fully understand the severity of your injuries. Semi-truck accidents often cause very severe injuries including traumatic brain injuries, spinal cord damage, broken bones, burn injuries, traumatic amputations, nerve damage, back and shoulder damage, scarring and disfigurement, and other injuries. We need to know just how severe the injuries are, what medical care you need, and how your injuries have affected every aspect of your life.
Tragically, many truck accidents are fatal. We file wrongful death claims on behalf of the families of the victims.
At Glisson Law, we seek compensation for all your medical bills, lost income, pain and suffering, property damage, loss of function, and all the other damages state law permits. We seek compensation for funeral expenses, lost financial support, and the loss of personal guidance and support if a loved one died. Our lawyers have an impressive record of personal injury settlements and verdicts.
Please fill out our contact form or call our semi-truck accident lawyers in Alton today. Proudly serving all of Illinois and Missouri, including St. Clair and Madison Counties.