How Does a Wrongful Death Attorney Help Families After Fatal Accidents?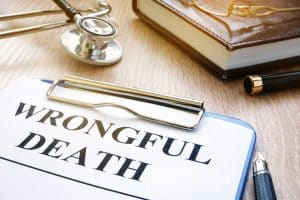 It's the worst news you can receive. The news that a loved one died in an accident that was avoidable is devastating. It's all you can do to breathe. When a father, mother, spouse, daughter, child, or other close relative dies; the individuals and companies that caused your loved one to die deserve to be held accountable. While no sum of money can bring back or replace your loved one, holding defendants accountable helps to compensate families for the financial losses due to their loved one's death and for any non-economic damages that state law permits.
Glisson Law works to obtain the maximum settlement or verdict possible. We understand the state laws that determine who the claimants are, what damages they can claim, when the wrongful death claim must be filed, and other relevant issues.
Some of our significant wrongful death results include:
A fatal tractor-trailer accident – $8.2 million.
Medical malpractice leading to wrongful death – $2.3 million jury verdict.
Wrongful death of child struck by speeding vehicle – $1.0 million.
Fatal medical malpractice stemming from failure to diagnose – $9.75 million.
Wrongful death of jogger struck by drag racing vehicles – 7.5+ million arbitration award.
What types of accidents cause wrongful death?
Our trial lawyers are skilled at handling any type of deadly accident. Some of the common causes of fatal accidents in Alton and the surrounding regions include:
Car accidents
Truck accidents
Motorcycle accidents
Other types of vehicle accidents
Medical malpractice
Product defects
Premises liability accidents
Nursing home abuse and neglect
Construction accidents
Other causes
How do you handle the challenges in proving liability in a wrongful death case?
When a loved one dies, we file personal injury actions against those who are responsible based on the following legal principles:
Negligence, such as medical malpractice or drunk driving
Product liability, such as when a defective drug or car part causes the death of someone
Breach of warranty, such as when manufacturers promise that their products will work under certain conditions and they don't
We work with a variety of expert witnesses to help prove the wrongful death claim, depending on how the accident happened and the legal principle being asserted. Some of the many professionals we work with include:
These experts examine the accident site if there is a site such as an intersection or a business property. They examine the damage to any vehicles involved. Investigators speak with eyewitnesses and anyone who has relevant information. They may also speak with neighbors and local businesses to see if they have videos of the accident.
Product safety engineers. If a defective drug, car product, machinery item, home appliance, or any other product caused the death of your loved one; we work with these professionals to show that the product was defective because it was improperly designed, improperly constructed, the instructions were wrong, or other defects were present.
Engineer and construction experts. These professionals can help show that an owner's property didn't comply with local building codes or wasn't constructed properly. They can also show that a construction company failed to follow standard procedures.
If your loved died due to medical malpractice, we work with doctors who have the medical skill and legal experience to prepare medical reports and testify in court – showing why hospitals, doctors, and other healthcare providers were negligent and what preventive measures should have been taken.
We may work with other professionals too such as fire safety professionals, traffic reconstruction experts, and others to show how the accident that caused your loved one's death occurred.
Working with experts is often a critical part of the liability phase of your wrongful death action because your loved one can't testify because of his/her death. We also work with eyewitnesses, other witnesses, and through the questioning of the defendants to help show the defendants are liable for your loved one's death. Our lawyers also work with financial professionals who are skilled at placing a value on the financial losses of each person who has a wrongful death claim.
How do you coordinate a wrongful death case with any criminal complaints?
A wrongful death claim does not require that you show a defendant was criminally responsible. In many accidents that cause a death, criminal charges are not filed. However, there are cases where a criminal charge is filed. A common example is when your loved one was killed by a drunk driver. The drunk driver will likely be charged with a driving under the influence offense. They may even be charged with a DUI-related manslaughter or homicide charge.
Our civil trial lawyers work with the police and the prosecution to coordinate your claim with the criminal case. Usually, the criminal case proceeds first. We often use the same evidence such as the high results of breath or blood tests in your civil case. We may be able to introduce a guilty finding in a civil case. Often, if the defendant is found guilty, the insurer carrier for the driver will discuss a settlement because they know their insured is very likely to be found liable in the civil case.
Who are the defendants in wrongful death cases?
In many wrongful death cases, there are multiple defendants responsible for your loved one's death. Besides the obvious defendants, our lawyers are skilled at determining all liable parties for the accident. For example:
In auto accidents, in addition to the driver, the possible defendants may include an employer of the driver, an owner of the vehicle, a tavern that sold alcohol to an intoxicated driver, and other defendants.
In medical malpractice cases, in addition to the physician, other possible defendants may include the hospital, a nurse, a medical technician, a pharmacy, or other healthcare providers.
In product liability cases, aside from the manufacturer, the distributors and sellers of a defective product may also be liable.
Construction accidents, premises liability accidents, and other accidents may also involve multiple defendants.
At Glisson Law, we understand how traumatic the death of any family member is. We begin by respecting your need to mourn your loved one. We work diligently, step-by-step, with professionals, through the discovery process, by negotiation, and by arguing your case before a jury, to obtain the strongest results possible. Please fill out our contact form or call our wrongful death lawyers in Alton today to schedule a free consultation. Proudly serving all of Illinois and Missouri, including St. Clair and Madison Counties.