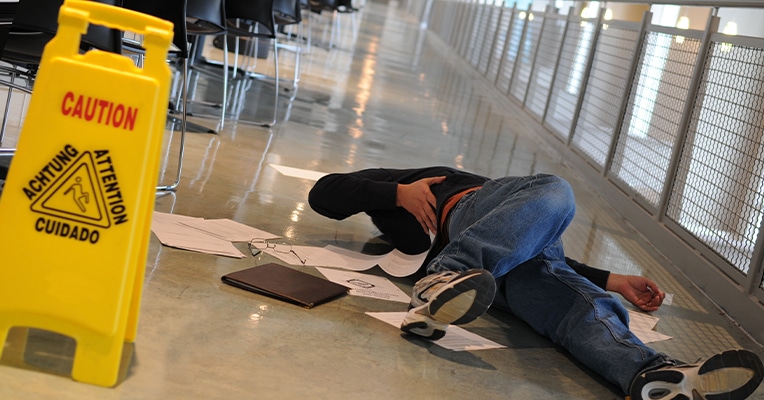 Alton Slip and Fall Lawyers
Legal help when you're injured on dangerous property in Illinois
When retail establishments, construction sites, or other places accessible to the public don't keep their premises safe, people can slip, trip, and fall. Whether it's puddles or ice, loose carpeting, holes in the ground, or other dangers, these types of accidents can cause extremely serious injuries. And if you or a loved one suffer severe injury or worse in an accident that wasn't your fault, you deserve compensation for what you've lost.
Property owners may be responsible for injuries, wrongful death and damages that result from a slip, trip or fall on their premises. Slip and fall accidents can result in serious injuries and have long-lasting effects on a person's life. If you or a loved one has been involved in a slip and fall, it is important to understand your rights and the legal options available to you. At Glisson Law, our Alton premises liability attorneys can answer all your questions and put you on the right path toward compensation for your injuries.
How do slip and fall accidents happen?
Slip and fall accidents occur when a person loses their footing and falls to the ground due to hazardous conditions. These incidents commonly happen from:
Wet and slippery surfaces
Uneven flooring or sidewalks
Poorly-lit areas
Loose carpet or rugs
Objects strewn in walkway
Ice or snow on sidewalks or parking lots
Slip and fall accidents can happen anywhere, including public spaces, at work, and on someone else's property.
What kinds of injuries result from slip and falls?
Slip and fall accidents can result in a wide range of serious injuries, including:
Soft tissue injuries, like sprains and strains
Internal injuries, including organ damage
The severity of an injury will depend on several factors, including the height of the fall, the impact of the fall, and the person's age and overall health. Many injuries require ongoing medical treatment and often result in permanent disability or chronic pain.
Do I have a case if I slipped on ice or snow?
A popular area of premises liability law are slip and fall injuries resulting from ice and snow. Generally, property owners are not liable for accidents that occur as a result of what's called "natural accumulation" of ice and snow. In other words, people do not have a duty to shovel their sidewalks and driveways, nor do business owners. However, if a property owner negligently attempts snow removal, causing a more dangerous condition, they can be held liable for injuries that happen as a result.
Most businesses attempt snow removal as a business gesture and in doing so, need to protect the safety of their patrons, but this is not always the case. Often, businesses hire snow removal companies that do not have customer interests as a priority. Our Alton attorneys can explain these situations in more detail.
Good To Know: One out of every five falls causes a severe, injury such as a broken bone or a head injury. [CDC]
Who is liable for Alton my slip and fall accident?
Liability for a slip and fall injury depends on the specific circumstances of the incident. Generally, though, the person or entity responsible for maintaining the property where the fall occurred will be held liable if they failed to address a hazardous condition, warn of its existence, or should have reasonably known of its existence. These parties can include:
Property owners
Business owners
Building managers
Government entities in charge of public spaces
To determine liability, it must be shown that the responsible party knew (or should have known about) the hazard and failed to take reasonable steps to mitigate it. Our Alton personal injury attorneys can evaluate the specific facts of your case and determine who may be liable for your injuries.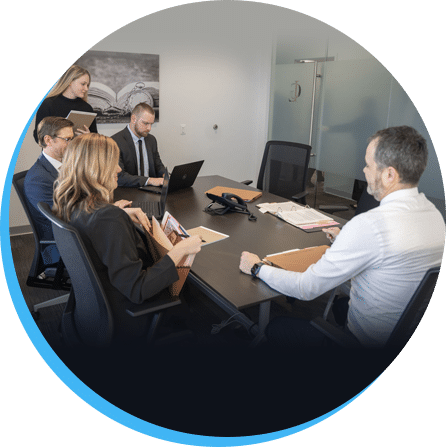 What are the elements of a successful slip and fall claim?
For a successful slip and fall case, you must demonstrate the following four points:
Duty of care. The responsible party (defendant) had a legal obligation to maintain the property in a reasonably safe condition.
Breach of duty. The defendant failed to fulfill their duty of care, resulting in a hazardous condition.
Causation. The hazardous condition was the direct cause of the slip and fall and resulting injuries.
Damages. You, the plaintiff, suffered actual harm, such as medical expenses, lost wages, and pain and suffering.
Our attorneys can advise you of the best way to pursue your claim.
How long do I have to file an Illinois slip and fall accident claim?
Illinois law put limits on the amount of time you have to bring or file your claim. Premises liability cases like slip and falls usually have a two-year statute of limitations. However, when municipalities (governmental entities like parks, schools, cities, etc.) are a defendant, which is often the case with sidewalks, streets and other similar areas, the statute of limitations can be one year or less. This is another reason why you should contact our offices immediately to assist with your claim.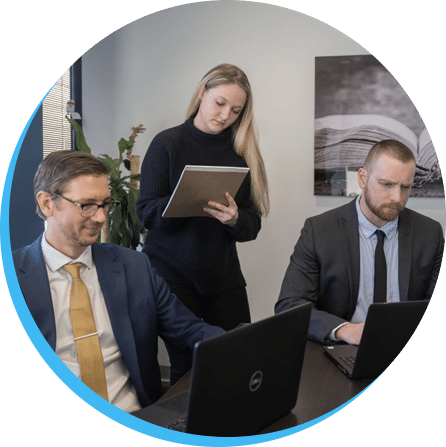 Do you have a slip and fall lawyer near me?
Glisson Law is located at 111 East Fourth Street, Suite 400, in Alton, IL. We're a block away from City Hall, and you can find plenty of parking across the street. There's also a bus stop right outside our office. Glisson Law conducts phone and video conferences when applicable, and makes home and hospital visits if you cannot travel to us.
Experienced Alton slip and fall attorneys
At Glisson Law, our lawyers take a hard stance on slip and fall cases. Neglect by property owners can lead to permanent injuries to people of all walks of life, including the elderly, children and disabled. What's worse is that property owners can often remedy the situation inexpensively, but don't bother until a serious accident occurs. Over the past 25 years, our team has recovered hundreds of thousands of dollars for innocent victims in premises liability situations, and we want to help you too. Call our Alton offices or fill out our contact form today to schedule a free consultation. We serve the people of Belleville, Edwardsville, St. Clair and Madison County, and all of Southwestern Illinois.